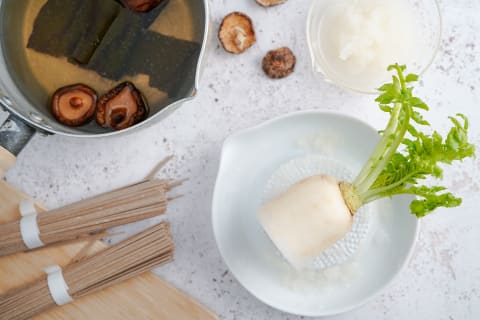 Method – Serves 2
Dashi Stock
Wipe the Kombu with a cloth. The Kombu shouldn't be washed, only wiped clean.
Rinse the Shiitake mushrooms. Put 1 litre of water in a pan and soak the Kombu and mushrooms for at least 30 minutes. Don't drain or throw away the liquid, this will become the dashi stock.
Squeeze out the mushrooms that have been soaking. Remove them from the water. Set them to one side. Leave the kombu in the water.
Heat the water up on a medium heat. As the water comes to a boil, turn off the heat and take out the Kombu.
Tsuyu Sauce
Put the soy sauce, mirin and dashi into a pan and bring to a boil.
When it starts boiling, remove from the heat.
Pour the sauce into a sauce plate
Grate the daikon and set to one side.